FOIMan highlights a new amendment to FOIA resulting from the UK's planned departure from the European Union.
It's all getting real isn't it? Aside from all the shenanigans in the Conservative Party this week, we're seeing more and more of the practical application of Brexit from government. And the Freedom of Information Act (FOIA) isn't immune from this.
Under the European Union Withdrawal Act 2018, ministers can make amendments to legislation to ensure that it is compatible with the terms of Brexit using secondary legislation. Yesterday the government outlined changes that would be made using this mechanism to the Data Protection Act 2018 (and through that, the application of GDPR in the UK) if the UK leaves the EU with no deal. (The Information Commissioner has also issued guidance on how no deal will affect data protection, especially when it comes to international transfers of personal data.)
In truth, FOIA isn't massively affected by Brexit. But it has been necessary for the government to lay regulations making one very specific amendment. Section 44 of FOIA provides an absolute exemption from the duty to provide information or confirm its existence in circumstances where other laws prevent disclosure. It avoids a conflict between FOIA and other laws. Specifically, s.44(1)(b) of FOIA specifies that information will be exempt from disclosure if it:
is incompatible with any EU obligation
Yesterday the Cabinet Office laid regulations before Parliament which simply replace the reference to 'any EU obligation' with 'any retained EU obligation'.
And there we are – FOIA is ready for Brexit when (or if) it comes.
---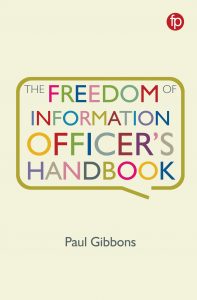 A reference guide to the FOIA exemptions is provided in the Freedom of Information Officer's Handbook by Paul Gibbons, which will be published in January 2019. Readers and subscribers to this blog can pre-order copies direct from the publisher with a 30% discount (so it will only cost you £45.45) by emailing info(Replace this parenthesis with the @ sign)facetpublishing.co.uk and quoting the code FOIBLOG30 (do not supply payment card or bank account details by email). The publisher's distributor will then contact you to arrange payment and discuss despatch instructions.