FOIMan brings tales of his recent exploits – delivering training in Brunei Darussalam.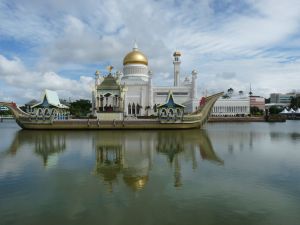 Regular readers will have noticed that I've been a little quiet here on the website. This is largely because of a big project I've been delivering for my friends at Act Now Training.
Ibrahim Hasan, Director of Act Now, asked me some months ago if I'd be willing to deliver training on Data Protection auditing to the Brunei Government. Somewhat hesitantly I agreed, and admit that I was sceptical that it would actually happen. But then a few months later Ibrahim emailed to say "We're on". Apparently my scepticism was misplaced.
I'm going to admit it…I didn't actually know where Brunei was. I thought I did, but further investigation revealed that I had been mistaken. Not a good start. This despite the fact that my last employer had a building named after the place (and funded by its ruler). (Quiz lovers may want to squirrel away the fact that the Brunei Gallery in Russell Square is the only building in London with an apology written on it. You never know what you'll learn on this site.)
For much of January I was preparing a training course on a data protection regime different to the one I was used to (though thankfully based on it). Reading Lonely Planet guidebooks and (I confess) Wikipedia, I learnt about many cultural differences. I was a little excited about the opportunity, but as a wise man once said, excitement is what you call fear after the event.
The day of departure soon arrived, and 16 hours after leaving Heathrow, we touched down in Bandar Seri Bagawan, Brunei's capital. It was soon clear that any worries I had about cultural differences were misplaced – from the moment we were picked up at the airport, the people we met could not have been friendlier.
We had a day to ourselves for a little sightseeing and we took full advantage, visiting the impressive Omar Ali Saifuddien Mosque, the traditional stilt villages of the capital at Kampung Ayer, and wildlife at the edge of the Bornean jungle fringing the city. Ibrahim in particular was keen to engage in a wide range of the culinary experiences of Brunei, so we ate adventurously and well!
The training itself went better than I could have dreamed beforehand. It helped having two of us to break things up, and Ibrahim's input was crucial. I confessed in advance that I'd been nervous of delivering training in front of a fellow trainer, but we soon formed a double act which appeared to win our audience over.
It's always nice to come home, but visiting and delivering training in Brunei is an experience I will always remember fondly. And not one I ever expected!
Ibrahim has written in more length and depth about our Brunei adventures on the Blog Now site. You can even see me in action delivering training to our hosts!