FOIMan examines the Information Commissioner's proposals for a new duty to document.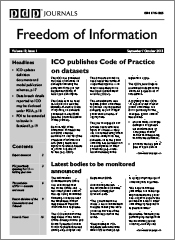 In December, the Information Commissioner, Elizabeth Denham, gave a speech at an event celebrating 250 years of freedom of information. During the speech Ms. Denham indicated that she wanted the government to legislate for a "duty to document".
I wrote briefly about this at the time. But in my latest piece for PDP's Freedom of Information Journal (available here), I've looked further into the Information Commissioner's proposals.
Amongst the issues explored are:
what effect FOI has had on public sector records management;
how the Information Tribunals have dealt with the issue of records management;
what problems is the Commissioner seeking to resolve;
what tools are available to the Commissioner now;
and finally, are there any existing duties to document along the lines that Elizabeth Denham suggests?